With cyber thugs roaming the Internet night and day, searching for credit card numbers, personal identification information and other confidential data, there is no better time to enroll in the most proactive Identity Theft management program on the market. Better still, Identity Theft Protection from CreditGuard provides a custom package just for members of Chandler Chamber!

Staples offers Amazon Returns at your local Staples store!
•Receive a $10 off $30 coupon for bringing in returns
Members of the Chandler Chamber of Commerce have access to special partner discounts every time they shop in store.
20% off your in-store Print & Marketing Services order
• Floor decals, signs, and posters
• Indoor and outdoor banners
• Disposable menus, and more!
10% off your in-store purchase of regularly priced items
• Office supplies like paper, ink, and toner
• Chairs, desks, and more!
Click the button above to activate and access your Chamber discount. Once your account is created, it can be also accessed via the Staples Connect App.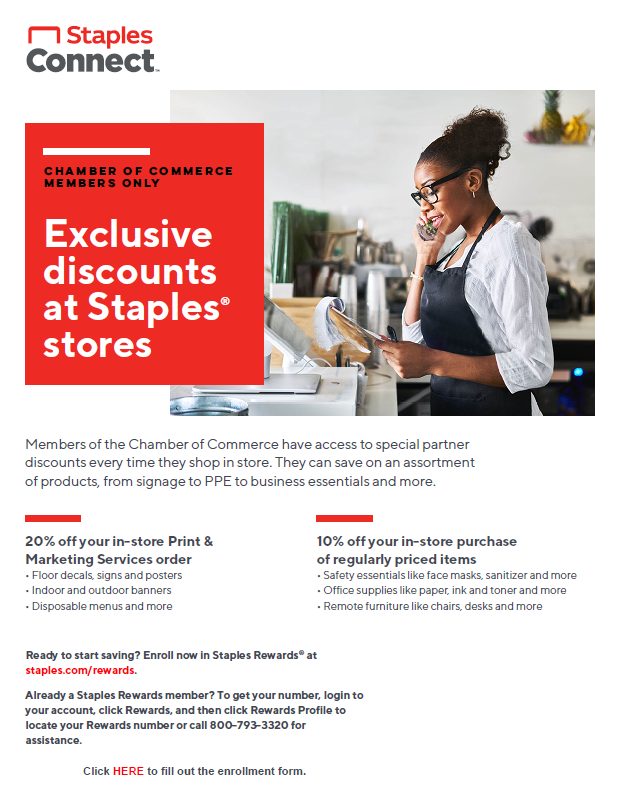 ODP Business Solutions, formerly Office Depot®, and the Chandler Chamber have partnered to provide exclusive benefits and savings on a wide selection of products and services including:
Office Essentials
Cleaning and Breakroom Solutions
Print & Copy Services
Furniture
Technology
Office Depot is your one-stop solution. We've been doing this for more than 30 years, and we're committed to helping you take care of business.