Meet the Elected Officals
In early January, the Chandler Chamber of Commerce hosts our annual "Meet the Elected Officials" breakfast, attended by Chamber members and industry professionals virtually in 2021. This is another of many Chamber events where we give a closer and more in-depth opportunity to get to know your elected officials.
The Chandler Chamber's Legislative Guide, How We Stand, is also presented.
The Chandler Chamber of Commerce cordially invites you to our
2022 Meet the Elected Officials Breakfast
featuring the unveiling of the Chamber's award winning How We Stand booklet, depicting our 2022 legislative agenda and priorities, as well as updates from Arizona's Elected Officials.
Friday, January 7, 2022
7:30 - 9:30 am
The Avion Center
1733 E Northrop Blvd.
Chandler, AZ 85286
Elected officials may RSVP to kassidy@chandlerchamber.com.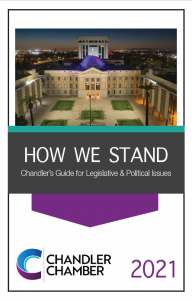 To view the 2021 Chandler Chamber How We Stand Guide for Legislative & Political Issues, click here.