The mission of Women in Leadership is to empower and propel women into business success through education, networking and mentor programs.

Women in Leadership is the go-to resource for women interested in developing their business and leadership skills. WIL delivers dynamic keynote speakers, mentoring sessions for new professionals, and supports scholarship efforts for women. It's about knowing how to lead from where you stand and improving the bottom line while creating comfortable working environments.

Keynote speakers have included Congresswoman, Kyrsten Sinema, news anchor, Tram Mai, networking guru, Gelie Akhenblit, just to name a few. Peer mentoring sessions offer attendees a chance to think out-of-the-box and foster ideas with the intention of creating solutions that can be put into motion.

Luncheons are held the third Tuesday of the month at Soho63 located at 63 E Boston Street, Chandler. To register for luncheons Click Here.

Women in Leadership Committee
If you would like to serve on the Women in Leadership Committee, please fill out the form to the right on this page.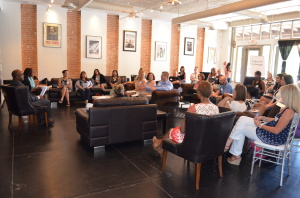 Interested in Women In Leadership's Committee