Candidates are placed in alphabetical order by last name. There is one seat open for this election.
Mark Kelly
Democratic Party
Why are you running?
I am running for the United States Senate because Washing is broken and Arizonans deserve independent leadership focused on solving the problems we face. As a former combat pilot, astronaut, and someone who has worked to start a business in Arizona, I bring a different set of experiences, and I'd bring an approach to make decisions based on science, data, and facts – not politics. What we're seeing right now, with Washington unable to work together to solve problems in the face of a national emergency, it's not sustainable and it has to change.
Top 3 issues you would like to focus on (?):
What I hear most from Arizonans is concern about healthcare coverage and affording rising costs. Many hardworking Arizonans also feel like they aren't getting ahead in this changing economy and are worried about retirement. These issues are made more severe by the crisis we're facing. We have to have the backs of small businesses, work to grow emerging industries, and invest in skills training and education for Arizona workers. I'll also work to expand health access and reduce costs for Arizonans by increasing competition and having Medicare negotiate down prescription drug costs.
How will your campaign embody the values of the Chandler Chamber?
I support policies that make Arizona a place where businesses and families have the opportunity to thrive. Our economy is changing, and Arizona must lead in creating good-paying jobs in emerging industries. I understand how difficult it is to start a business - I've done it. It's challenging and the choices that go into where someone starts a business have major impacts on a community. I'll prioritize educating our workforce, improving our infrastructure, and increasing access to capital to promote entrepreneurship and job creation in Arizona. And I'll continue listening to Arizona business owners to ensure their priorities are heard.
How will the Chamber's endorsement help you in the race?
I'm building a coalition of Arizonans who are willing to work together to find solutions, and I value having business owners and entrepreneurs as part of that coalition. Through 25 years in the Navy and at NASA, I learned how to solve problems and lead people from different backgrounds in service of a greater mission. When you're orbiting the Earth at 25 times the speed of sound and a problem comes up, you work the problem as a team, and you don't dismiss ideas based on the politics of the person offering them. That's the approach I'll bring to the Senate.
Daniel McCarthy
Republican Party

Why are you running?
To see the potential in America and to give my kids the country we once had.
Top 3 issues you would like to focus on:
Immigration – Border Security
Protection of our God Given Constitutional Rights
Federal Spending
How will your campaign embody the values of the Chandler Chamber?
Small business is the heart of the country and we completely support small bu8siness throughout Arizona.  I am a business man and bring millions of dollars into Arizona and support all business in Chandler and all of Arizona.
How will the Chamber's endorsement help you in the race?
Ideally by promoting our candidacy to all the great business owners in Chandler.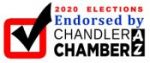 Martha McSally
Republican Party / Incumbent
Why are you running?
As your Senator, it's my honor to deploy to D.C. to fight for Arizonans as a continuation of my service in uniform with the
same exact oath. I am a purpose-driven, pragmatic,
problem-solving Senator. In my first year, I tied for #1 for number
of bills signed into law and was ranked in the top 10 most
bi-partisan Senators. Arizona's 2020 Senate election will be
the pivotal race to decide the Senate majority and direction of our country. I will continue to fight for low
taxes/regulations, affordable health care, protection our liberties, rebuilding our economy, supporting our military/vets, holding china accountable, and securing the border.
Top 3 issues you would like to focus on (?):
In the wake of the pandemic, I am focusing on pro-growth,
pro-job policies that help small businesses survive and grow.
That includes tax cuts and deregulation, access to capital, workforce training, and tax credits to bring manufacturing of
key health, technology and security items home from China. I will continue to lead on initiatives to lower health costs like Association Health Plans and lowering the cost of prescription drugs while protecting people with pre-existing conditions. I will continue to be a leader to support our military and vets and ensure we keep our country and communities safe from threats.
How will your campaign embody the values of the Chandler Chamber?
The core values of my life, Senate office and campaign are those I lived in the military: Integrity First, Service Before Self, and Excellence In All We Do. This AZ Senate election isn't just about two candidates. It will decide if our country careens towards socialism with massive tax increases, government takeover of healthcare, and other extreme policies.
Times are tough now but we will get through this. We must preserve the fundamentals of a free society and free market economy. I put my life on the line for these principles and am fighting to preserve them now.
How will the Chamber's endorsement help you in the race?
It has been a privilege to work with the Chandler Chamber and it would be an honor to have the Chamber's endorsement and support. Arizona's small businesses are the lifeline of this state and to be recognized by Chandler's business owners for supporting jobs and pro-growth policies would affirm that I am fighting for small businesses and job creators in Chandler and will continue to do so in the future!