U.S. Congressional District 5 Candidates
Candidates are placed in alphabetical order by last name.
There is one seat open for this election.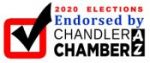 Andy Biggs
Republican Party / Incumbent

Why are you running?
My constituents elected me to shrink the size and scope of the federal government, cut wasteful spending, reduce the deficit, balance the federal budget, advance pro-life policies, secure our borders, protect our national security interests, cut taxes and regulation, fix our broken healthcare system, return education policy to the states, and restore accountability in Washington, D.C. My voting record is and will continue to be a record of promises kept to my constituents. Going forward, I will not stop fighting to ensure that they are heard in our Nation's Capital.
Top 3 issues you would like to focus on:
One of my first priorities is the federal budget. Congress must enact a structurally balanced budget, cut spending, dramatically reduce our national debt, reform our regulatory system, and cut taxes. I will also uphold the oath I took to protect and defend the Constitution even when that requires tough decisions. I will continue to fiercely defend human life. I have fought to defund Planned Parenthood, ban late term abortion, and make sure individuals in the healthcare system will never be forced to take an innocent life.
How will your campaign embody the values of the Chandler Chamber?
I share their goal of facilitating businesses to prosper while enhancing Chandler's premier community. I will fight in Washington to ensure their voice are heard and values upheld specifically to lower taxes, reduce regulatory burden, and a balance the federal budget.
How will the Chamber's endorsement help you in the race?
The Chandler Chamber of Commerce under Terri Kimble's leadership has been vital to helping our East Valley businesses ensure their voices are heard in Washington on every issue from reducing regulatory burdens and lowering taxes to balancing the federal budget. An endorsement from the Chamber will be vital in securing support from the business community that I serve.
Joan Greene
Democratic Party
Sent invite and application.  Has not responded for interview.
Jon Ireland
Democratic Party
Written information was not provided.
Javier Ramos
Democratic Party
Invited to participate, but kindly declined.