Maricopa County Supervisor Candidates
Candidates are placed in alphabetical order by last name.
There is one (1) seat open for this election.
Jevin Hodge 
Democratic Party
Why are you running?
n/a
Top 3 issues you would like to focus on:
Investing in Maricopa County's infrastructure, from its roads and highways to its storm water and waste systems, is a major priority. Our public works are an opportunity to not only improve our cities, county, and state, but also to provide jobs for our residents. I will intently pursue state and federal funding opportunities for as many public works projects as possible to assist the county and cities with the cost of critical infrastructure improvements. Furthermore, I will advocate for goods and services procured by the county to come from local suppliers, benefiting the local economy. This is how we return the public's tax dollars to its pockets and ensure that money is put to work for the people. Maricopa County has an incredible track record for growth; we must make sure it happens symmetrically, benefiting our small and local business employing county residents. I anticipate the county to be a major customer for these men and women for years to come.
My other two priorities are investing in our community's personal and economic well-being. Special attention should be given to providing top-notch health services to veterans, the disabled, and the poor. I will work to invest heavily in Maricopa County's public hospitals and other health programs to streamline care, hire more nurses, doctors, and support staff. I will also advocate to increase funding for educational institutions training healthcare professionals. Well-being extends to the health of our economy, that means focusing attention on workforce development and job training programing. I will specifically support programs in the Maricopa Community College system responsible for trade and career training. I would also like to see more support for vocational and apprenticeship programs in high schools, as well as the integration of other skills, such as computer programming and foreign language education, into curriculums. Our society must value those with professional licenses, from plumbers to realtors, because their work is critical to developing the infrastructure I discussed above. Investing in classrooms would allow our students to develop new tools and create jobs in industries that may not even exist yet, while supporting those who go into traditional professions to succeed. I also want to put a special emphasis on early childhood development and would like to explore how the county might begin preparing its youngest residents for success in both the classroom and the workforce.
How will your campaign embody the values of the Chandler Chamber?
I have the consensus-building skills, pragmatic approach to problem-solving, and compassion for people necessary for public service. I am committed to bipartisan decision-making and view service to my county as service to all who live in it, not just to those who vote for me. I am a deal-maker by trade, a pragmatist by upbringing, and a son of Christ by birth. I want to see change in our county for the better. That means helping more Arizonans get to work on building up our paradise in the desert. It also means caring for our neighbors, regardless of whether they think, look, or act differently from us or our idealized versions of ourselves. Finally, it means listening to the community, taking into account economics when it comes to delivering what the people want, and setting priorities when it comes to mobilizing our multi-billion dollar budget.
My staff and I will be fully dedicated to community engagement and casework. Period. Providing high quality constituent services is critical to fostering growth and supporting all stakeholders in our county. We would identify several methods of engagement that meet constituents where they are and make communication easy and accessible. This includes but is not limited to:
Stakeholder roundtables bringing together a cross section of stakeholder groups in District One, allowing each to advise on community input, needs and policy.
Community meetings, town halls, and fairs
Digital townhalls -- using Facebook, Instagram, and Twitter. This will allow constituents to engage from the comfort of their home.
Roadshow meetings to attend community and stakeholder events, meeting groups where they are.
Attending and participating in significant community events such as Gilbert Days, chamber events, and local school district events.
Responding to phone calls and emails. This may sound simple, but acknowledging receipt of a communication and following up in a meaningful way is an often overlooked method of community engagement and being present for one's constituents.
How will the Chamber's endorsement help you in the race?
The most important aspect for me, is learning from the Chamber and the various members and leaders about the issues, policies, programs, and initiatives that are most important to you. Having in-depth knowledge of what is most important to business owners and residents is absolutely essential and invaluable. Next, leveraging the Chambers of Commerce's incredible network to team engage residents across the East Valley and encourage them to participate in our democracy and to support our local businesses. As a Supervisor, I will lean on the business community's political and public policy expertise on such topics as zoning, transportation and affordable community development, and the investment in new energy infrastructure. As a County Supervisor, I intend to hold in my office regular advisory committee meetings, where I fully expect and appreciate the Chandler Chamber to vocalize what steps must be taken to protect peoples' ownership of private property, to return taxpayer dollars to the community in the form of local procurement, and the provision of high-quality services around the county.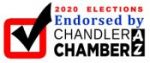 Jack Sellers 
Republican Party
Currently holds office.  Appointed by Maricopa County Board of Supervisors in February 2019.

Why are you running?
This position is the right fit for me to continue to support this region and state after serving 2 terms on Chandler City Council and as Chair of the State Transportation Board.
Top 3 issues you would like to focus on:
Support policies that help us to become a truly Smart Region by utilizing technology to make our life safer and more productive.
Take a lead role in developing an intelligent transportation funding initiative to replace Prop400. We need a plan that supports our continued growth and allows us to maintain and improve our lifestyle.
Continue to improve our ability to vote in an efficient, transparent and honest manner.
How will your campaign embody the values of the Chandler Chamber?
Quality jobs is a critical part of the success of Chandler. The Chamber plays a key role in attracting and retaining the quality companies that provide those jobs. I will continue to encourage maintaining that relationship.
How will the Chamber's endorsement help you in the race?
The Chamber's endorsement is critical for a business-oriented candidate like myself. If I don't have the Chamber's endorsement, then I'm not doing my job!