Maricopa County Recorder Candidates
Candidates are placed in alphabetical order by last name.
There is one (1) seat open for this election.
Adrian Fontes
Democratic Party - Incumbent 
Why are you running?
Originally motivated because of long lines and poor access across the political spectrum in 2016, reelection will allow the voters to affirm and validate my policies of an improved voter experience, expanded transparency/accountability, and more robust security of our elections. We have made it easier for eligible citizens to vote, and the cost of backsliding away from these policies is too great a burden on our democracy.
Top 3 issues you would like to focus on (?):
1. Improving the voter's experience
2. Greater transparency/accountability
3. Improving our security profile against foreign actors and m/disinformation
How will your campaign embody the values of the Chandler Chamber?
Decreasing processing time for recording transactions facilitates business prosperity by focusing on the client (individuals and businesses, not the institution). This vital service, along with significantly improved elections overall, works towards creating that premiere community the Chamber strives towards.
How will the Chamber's endorsement help you in the race?
Common sense reforms based on data and intelligent planning are the hallmark of a good business, as they are with my administration. Casting aside trivial differences for the benefit of the core deal (in business or government) has resulted in a historic bipartisan reorganization of a vital government function. This endorsement will show that, regardless of partisan politics, the Chamber recognizes teamwork, compromise, and maturity as vital to getting good government reforms done.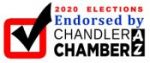 Stephen Richer
Republican Party

Why are you running?
Judged objectively by nearly any metric—competency, transparency, fairness, civility, lawfulness—Adrian Fontes has failed. He has further eroded public confidence in the important functions overseen by the Recorder's Office (namely elections, voter registration, and recording). And he has inappropriately leveraged the office for his own policy and partisan ends.
I will make the Recorder's Office boring again. We will not court controversy; we will not play political activist; and we will not infringe upon the state legislature's domain. Instead, we will excellently perform the duties clearly delegated to us and effectively serve all of Maricopa County's 4.4 million residents.
Top 3 issues you would like to focus on:
More easily obtain information whether it's lien recordings, judgments, campaign donations, or voter registration statistics for Maricopa County.
Winning the respect and confidence of all political parties in our administration of voter registration and elections. We will immediately create an oversight board with representation from the Arizona Republican Party, Arizona Democrat Party, Arizona Green Party, and Arizona Libertarian Party to allow scrutiny of our processes and constructive input.
Embracing and enacting the Secretary of State's new remote notarization program to facilitate deal closings. And generally establish ourselves as a trusted business partner to the private sector workers who regularly interact with the Recorder's Office (e.g. realtors, title agents, chiropractors, attorneys).
How will your campaign embody the values of the Chandler Chamber?
(I allocated words from the next answer to this one; hope that's OK) I have long been a member of various chambers of commerce, and I have long interacted with various chambers on many different levels. In Washington, DC I worked on various amicus briefs and issue advocacy efforts in tandem with the U.S. Chamber of Commerce. I remain in communication with employees of the U.S. Chamber of Commerce.
I am a business person. I have owned and operated multiple businesses including a restaurant and a calendaring service. I always either joined, participated in, or benefitted from my local chamber of commerce. My family's business – Arnold Machinery Company – is a member of multiple chambers of commerce in the western United States.
I am a lawyer. My firm – Lewis Roca Rothgerber Christie LLP – is an active member of both the Phoenix Chamber and the Arizona Chamber, and I have been an active participant in both. I was even a fellow in the inaugural class of the Arizona Chamber's Industry Fellows Program. Garrick Taylor of the Arizona Chamber can vouch for me.
I am unapologetically pro market, and I believe the business of America is business. I think that those who run businesses and create jobs are the greatest heroes of society, and they should be viewed as such.
My opponent by contrast is a Bernie Sanders supporter and activist who regularly tweets hostile remarks to the business community. He has been irresponsible in his personal business efforts (foreclosures, unpaid debts, etc.) and is not a friend to a healthy economic environment.
How will the Chamber's endorsement help you in the race?
I am a first time candidate, and Maricopa County is an enormous county; the Chandler Chamber's endorsement will help me spread the word about our campaign and the need to improve the Recorder's Office.
Clair Van Steenwyk
Republican Party


Why are you running?
To Restore Voter Trust to the system and get New Election Laws Passed in Arizona.
Top 3 issues you would like to focus on:
Passing New Election Laws.
Operate Office as a Business and not a Political Arm of either Party.
Retraining of Staff in Recorders Office.
How will your campaign embody the values of the Chandler Chamber?
I believe in being completely honest with the Voters and Citizens of the State and put forth only what I truly believe can be achieved.
How will the Chamber's endorsement help you in the race?
By introducing a Former Businessman to the public that will only do what the U.S. Constitution allows them to do when operating the Election process within the County of Maricopa.