LD18 State Senate Candidates
Candidates are placed in alphabetical order by last name.
There is one (1) open seat for this election.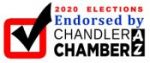 Sean Bowie
Democratic Party / Incumbent

Why are you running?
I'm running for re-election to continue the work I've been doing over the last four years, which includes working with our business community to grow our economy, invest in public education, and work together with both sides to get things done.
Top 3 issues you would like to focus on:
Continuing to invest in education at both the K-12 and higher education levels
Continuing to invest in workforce development programs to grow our economy
Make critical investments in our state's infrastructure to help us grow
How will your campaign embody the values of the Chandler Chamber?
I've worked closely with the Chandler Chamber over the years, and will continue that work going forward if I am re-elected. We've worked Chandler Chamber of Commerce closely on issues important to the business community like liability reform, extending tax credit incentives for some of our largest employers, and increased our investment in public education.
How will the Chamber's endorsement help you in the race?
I hope to earn the Chamber's endorsement again and continue to advocate to my constituents that I am putting our community first, not ideology or party. As you can see from the Chamber scorecards, I have a proven record of working with and supporting our local business community, and will continue to do so in the state senate.
Suzanne Sharer
Republican Party

Why are you running?
I love Arizona and our amazing country. I want to be a voice that helps shape Arizona's future. We are welcoming over 200 new residents to Arizona daily becoming one of the fastest growing counties in the nation. As a licensed real estate professional for the last 24 years I can realize that we need strong leaders who understand the logistics of such and influx and will stay true to Arizona's core values of following our constitution, respect the rights of the individual and enforce
the rule of law. As a State Senator I will work to eliminate excessive government overreach in our lives and fight for common sense, transparency and legislative restraint. I believe now more than ever it is critical to promote and support business and education friendly policies that will continue to attract top employers and educators to our state allowing more opportunities for all Arizonans to flourish.
Top 3 issues you would like to focus on:
1. Education
2. Lower Taxes
How will your campaign embody the values of the Chandler Chamber?
Help foster a business and education friendly environment so that our citizens can become successful thereby creating a flourishing community that will continue to attract more commerce and citizens.
How will the Chamber's endorsement help you in the race?
We are at a crossroads where business leaders have become very important to getting our economy back on track as hundreds of thousands of Arizonans have been hurt by these latest disasters. It would be a great honor for business leaders to put their confidence in me to help navigate our community through these difficult times.