Mission: The Chandler Chamber Women in Business is a premiere organization to promote
progressive personal and professional development.
Monthly educational luncheons are preceded by a mentoring circle or education salon event.
Luncheons are held the third Tuesday of the month at Soho63 located at 63 E Boston Street, Chandler. To register for luncheons visit the calendar page on the website.
Women in Business Committee:
Maggie Joseph, Intel—Co-chair
Lorena Rodriguez, Intel—Co-chair
Kate Ford, PayPal—Immediate Past Chair
Denise McCreery, d'Vine Gourmet—Past Chair
Loreal Vasquez, Toyota Financial Services
Gina La Benz, Origami Owl
Kylie Miller, Garcia's Mexican Restaurant
Bethany Crouse - ISAGENIX
If you would like to serve on the Women in Business Committee, contact Sarah Miranda at
sarahm@chandlerchamber.com.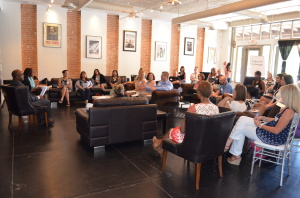 Find out who made the list for Chandler 100 for 2016